The news came as a shocker when only weeks before shooting of season 5 began, Bravo network decided to hand out pink slips to four out of the six "Real Housewives of New York City" reality stars. The news I think came as the biggest shocker to Jill Zarin who was an original cast member being with them since the start year years ago.
Jill Zarin had her first interviewed this morning since her dismal from the show 'RHWNY'. She appeared on Good Morning America this morning with a whole lot to say regarding the show. She went as far as calling the show "toxic" and giving Taylor Armstrong the following advice, "Honestly, I wouldn't talk to the press or anyone for six months to a year,I would buckle down with my family and I probably wouldn't come back on the show. It hasn't been good to her." Zarin went on to say, "I can't imagine watching her crying as much as she does. But if she needs the money, she's got to do what she's got to do to support her family."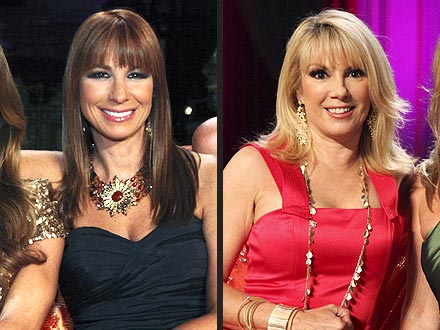 It is being suggested that the Bravo network pushed for the drama on the series and would even hit at them being able to be replaced if they didn't bring it. Crazy thing is Ramona Singer told HollwywoodLife.com that after the season four reunion fans actually reached out stating, "We don't like what's going on. You have to change the cast here." Ramona and Jill were known for going at each other as they constantly crashed or butted heads. Orange Juiceor at one point was Jill was going to quit due to the feud with Ramona.
Was the drama simply too much? Did the Bravo Network fear deaths or violence bringing further scrutiny to the show?