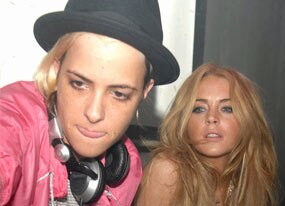 Apparently, Samantha Ronson was looking for a shoulder to cry on and some sympathy when she phoned Lindsay Lohan shortly after her DUI arrest. Samantha Ronson can be facing 6 months in jail for two misdemeanor counters of DUI. However when she phoned Lindsay Lohan the last thing she expected was to be told off.
When Samantha Ronson called Lindsay Lohan she was thrown aback by Lindsay Lohan's reaction which was less than compassionate as she had formally imagined. In short, Lindsay Lohan told off Samantha Ronson with great vengeance. "Revenge is sweet when served cold" but "Karma is sweeter."
According to inside sources, Lindsay Lohan lashed out at Samantha Ronson with such comments as: "Wow, you turned out to be a fine example…you'd think you'd have learned something from all those hours of boring lectures you gave me!" And on on and on Lindsay went off. This was the day she didn't even realize she was waiting for, however, it arrived and took both of them with a sweet karmatic surprise.
An inside source that knows both Samantha Ronson and Lindsay Lohan stated: "When Sam phoned Lindsay the morning after her arrest, she fully expected to hear a friendly and supportive voice on the other end. But Lindsay came on like a real 'Mean Girl,' bashing her old pal big-time with sarcastic, bitchy cracks. Sam was absolutely devastated at hearing this from the one person she truly believed would lend a sympathetic ear!"
Well, what could she have expected? Just because Lindsay Lohan is not riding the high waves of life as of yet, doesn't mean she has forgotten how dirty Samantha Ronson did her. This was really a great opportunity for some closure on Lindsay Lohan's behalf and she really tapped into her "Mean Girl" role. "What perfect timing."

Samantha Ronson was so pissed off she hissed at Lindsay Lohan: "Don't worry, I'll never call you and again." Why did she even bother? I suppose she thought she was going to have sympathy from a vulnerable Lindsay Lohan. Needless to say, "Lindsay Lohan showed her!"